At The Beauty Therapy Centre we pride ourselves on our consistent, professional treatments. Everyone is regarded as an individual, therefore your beauty needs are tailored specifically for your requirements.
We have developed our extensive range of treatments through experience, knowledge and client feedback. We listen to our clients to ensure we are offering the latest beauty care. It is essential to the continuing success of The Beauty Therapy Centre that our clients are at the heart of everything we do.
Please email us if you have any feedback, comments or questions you would like to share with us. Here are some of the lovely things our clients say!
LVL Lashes
I had heard about LVL lashes and was curious to try them out! Toni explained a bit about the treatment and how it enhances natural lashes. I am so pleased with my lashes, look amazing! Its a very subtle change but really makes a difference to your eyes! Even my husband noticed the difference! I couldn't recommend them highly enough! Thanks Toni!
Dear Beauty Therapy Ladies, I love the new treatment called LVL lashes, mine lasted the full six weeks and more.
Thanks Rebecca, my lashes are fab and meant I didn't need ANY makeup on holiday! Brilliant
They looked false Leanne, I'm amazed I had such long lashes! who knew!! love them, thanks, Carole
My lashes look lovely and everyone noticed them and thought they were false!! thanks Sonya I love them x x
Electrolysis
Thank God for The Beauty Therapy Centre! I have been searching far and wide to find a salon that still does Electrolysis and luckily I found Clare and The Beauty Therapy Centre! Despite having to travel from Northamptonshire for my treatment, it was totally worth it. Clare is a lovely, professional therapist and I thank my lucky stars that I've found her!
Hi Clare, I just wanted to let you know you were right. You said that threading was more painful than electrolysis and that it can make the hair problem worse! well as I said you were right, you've only done six treatments of electrolysis on my upper lip and not only was it less painful than the threading, it already looks miles better!! Thanks mate, you're a star. Bev
Thank you Clare, you have literally changed my life with your electrolysis skills. I have had electrolysis in several places, but you are, by far! the most gentle, skilful and kind Beauty therapist I have ever met. Thank you. Regards Jayne.
When I first thought about electrolysis for my upper lip I was worried and confused by all the different methods and advice I was getting. Until I went to The Beauty Therapy Centre. From the careful explanation on the phone (from Sonya) to the patient, professional and obviously hugely knowledgable consultation; and subsequent frequent treatments; from Clare (as you would expect from a teacher of electrolysis!). They are a group of very empathetic individuals, who make up a lovely team of beauticians who make you feel at ease and welcome. I would highly recommend The Beauty Therapy Centre.
"My facial and body hair had been a big deal in my life as long as I could remember. Nothing seemed to work effectively, and I had more or less given up. Clare's empathy combined with her high level of skill & experience in electrolysis enabled me to take the plunge to successfully and permanently remove my facial hair. When Clare waxed my legs and underarms, it was the first time I had ever come away from a waxing treatment with no redness, and she is very fast! I am so grateful to Clare for supporting me to resolve a difficult and very personal issue. The impact has been a renewed sense of my femininity and I recommend The Beauty Therapy Centre wholeheartedly." Alison
I suffered for years with coarse black facial hairs, the more I tweezed them out, the worse they got. Clare recommended Electrolysis, assuring me it would clear the problem, I was very sceptical but agreed to give it a try. It wasn't painful at all, just created a tingling sensation. The end result being after just 12 sessions there was not a black hair to be found, with very limited regrowth it has now been over 6 months since I've needed a very small session. Would recommend the treatment to anybody who is considering having it done. Deirdre
"I have had electrolysis at Stowe with Claire and Toni. It takes patience to get the result you want but both are excellent therapists and the salon is very nice clean and comfortable. In winter they even heat up the bed a little bit of luxury. I also tried a facial with Toni and it was the best experience I have ever had at a salon. I would recommend this Salon to everyone." Pamela
Tanning
Thank Toni, I had a spray tan in your lovely new salon in Stowe Castle today. The new tan room made it so quick and easy and 3 hrs later I have just washed it off, it looks brilliant. The new salon looks amazing, great job on the design. Thanks TBTC Stowe. Dawn
Facials
Thank you to all the team at TBTC, your unique way of dealing with my skin problems is brilliant. I loved the thorough consultation and sensitive handling of my concerns. I felt very reassured by your professional approach. I have now had facials with all four of you and I am impressed with all of you. There is a continuity so that is feels familiar no matter who is doing it, but you all have your own style too, so I love it. and my skin looks amazing. Thank you. Ruthy x
Dear Beauty Ladies, I wanted to email you because after years of trying to sort out my difficult skin, I am so happy to have found The Beauty Therapy Centre. The one thing that stands out for me is the way you guys really listen to me. Each and every time I have come to the salon you not only make me feel welcome, but you really think about what my skin needs. I feel secure in your capable hands. Thanks, Regards Terri
OMG CACI ULTRA facial.......Brilliant, Thank you. Penny xx
"The therapists at TBTC are a rare find! They have a holistic approach to beauty therapy and will work with you to achieve the results you are looking for – be it simply an hour of pure relaxation, or a long term plan to keep your face and body in tip-top condition. Personally, my skin has never looked better. Regular galvanic facials have made a real difference, my skin is finally calm!" Jade
"As always your advice was spot on, all my skin needed was a little TLC and that gorgeous new Radiance Balm. Thank you for convincing me that a little effort with my skin would go a long way. Thank you. One very happy customer". Rebecca
"My skin care regime was non existent and it showed. Clare recommended I try the Susan Molyneaux range of products and within a few weeks I could see an improvement in the look and feel of my skin. I now use the facial wash, cleanser, toner and balancing cream daily. The products are reasonably priced and can be used on the most sensitive skin. I would recommend them to anyone!" Julie
"Regular visits have made a noticeable improvement to my skin, and the atmosphere is fun and relaxed." Julian
"My skin has always been troublesome and I was worried that it would let me down on my wedding day, but thanks to your knowledge and care at The Beauty Therapy Centre, I felt radiant on the day and my was perfect. Many thanks for your help and I continue to enjoy my monthly visits to you." Jacky
"Thanks for my facial yesterday my skin felt fantastic this morning, you really performed a miracle! Terry
"I am so pleased I visited The Beauty Therapy Centre, the results have been amazing and I am now a regular customer." Sam
"The Beauty Therapy Centre is THE BEST treatment salon I have ever been to. Right from my very first visit, I felt so welcomed and all the treatments I have had with Rebecca were absolutely fantastic. I am a regular client now and so pleased I have finally found THE ONE:
-highly skilled staff
-very friendly atmosphere
-relaxing environment
-a great selection of beauty and holisitc treatment, all of the highest quality
-easy and quick online booking system" Julia
Hands and Feet
Hi Girls, I wanted to say thanks for my Shellac nails. Loved how easily they are removed after two weeks and how well they lasted for my holiday, they stayed so shiny the whole time, fabulous. Lv Sarah Marshall
Well, after two weeks, my first gel nails are still looking amazing! Here's an unexpected benefit... As a habitual cuticle nibbler, my nails have always looked pretty sorry for themselves. Not only has the beautiful purple gel colour stayed shiny and perfect these last two weeks, but I also haven't been tempted to nibble around them - hopefully this is giving them a chance to recover! Jade
"Clare always does the most perfect French manicure I have ever had, thanks for everything." Helen
I am so impressed with my gel nails. When I have had tips in the past, the bit I never liked was the thickness applied to cover the join. These are so much better and they don't interfere with your life. You are going to have to fight me to get me to take them off!! Maureen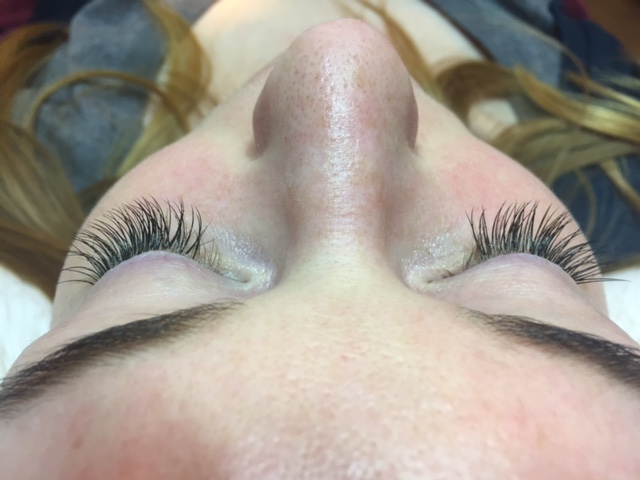 LVL lashes........ lift volume length
I just wanted to thank you for my lovely eye lash extensions. I sadly had my makeup bag stolen from my hotel room while on holiday, but thanks to my lashes I didn't feel so "naked!" (looking for the positive in an annoying situation), cheers, Geraldine
I just wanted to drop a quick note to Toni to say thank you for my fab eyelashes - I have had loads of compliments today and my face and neck has taken on a 'dewy' look. I feel like a million dollars. Sally
I just wanted to write a quick note to say how fantastic my eyelash extensions are that Toni has done for me. I've had eyelash extensions for over a year now, done in various places within Milton Keynes and Bedford with very disappointing results, for example, them falling off within a couple of days, having more glue in my eye than on the lashes and them pointing in every other direction than the one they should... to name but a few !!! But these ones are AMAZING!!!!!... and I didn't need to get them topped up for 4 weeks !!!! Erica
Pregnancy
A very big thank you for looking after me and "bump" throughout my pregnancy. All the treatments you did were great and time spent at The Beauty Therapy Centre was invaluable to my health and wellbeing throughout my pregnancy. As always I will be back for my regular treatments! Once again a big Thank You to all. Natasha and Mable!
Awards
Dear Clare, This sounds fantastic and many congratulations at reaching the final 6 for Best Beauty salon. I sincerely hope you win. Needless to say I miss visiting you at the salon so much, there is nothing at all here in Kent which comes anywhere near your exacting standards and frankly I would dearly love a visit before Easter. Your special pedicure sounds absolutely amazing. Lots of love to you and your team and the best very best of luck going forward. Marie xx
Dear Beauty Girls, So pleased to read that you have got into the last 6 for The Best Beauty salon in the south east. I hope you win, you deserve it! Well done to you all Best wishes, Sue
Dear Clare & Beauty Team, Well done! What splendid news for you and your team after such a very short time at Stowe. I look forward to hearing an update, I'm sure you will go from strength to strength and the place in the top 6 is very well deserved under your management and leadership. Love Gill